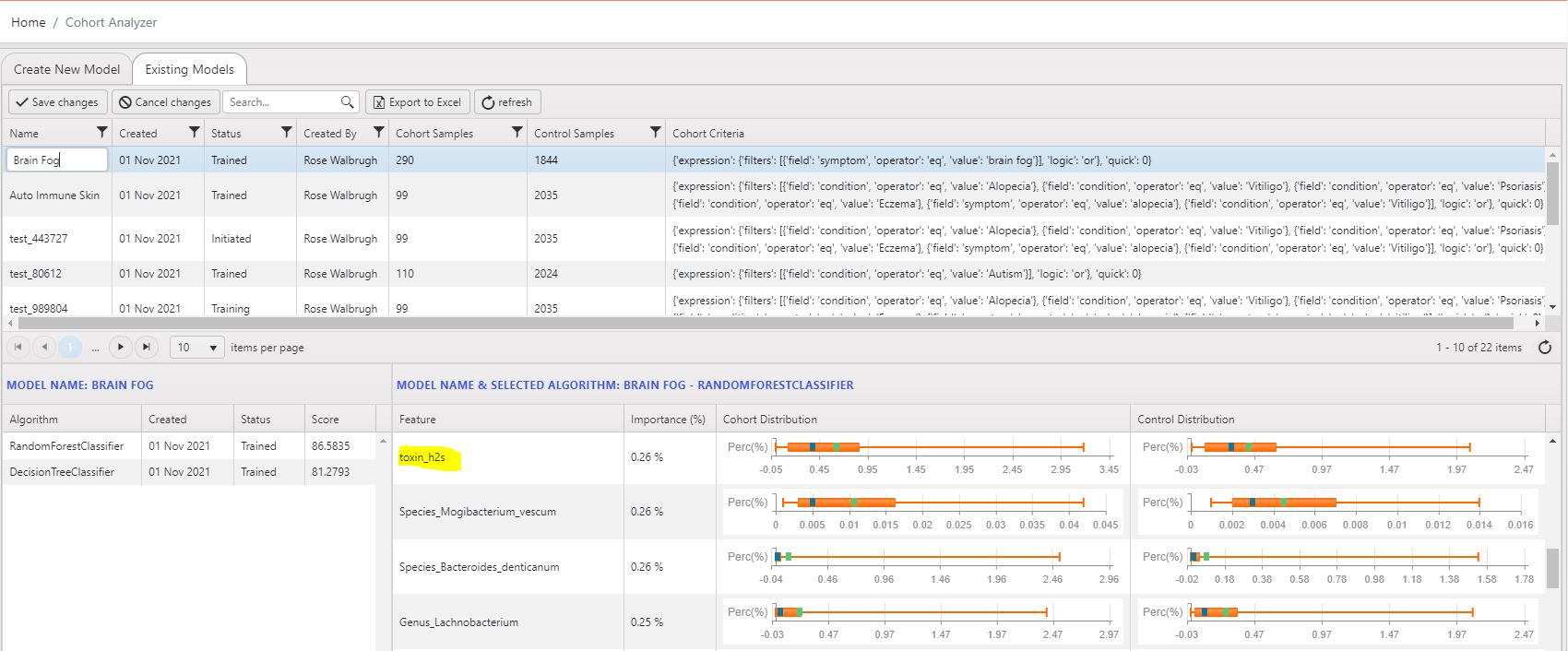 Feature Update - Cohort Analyzer
I am very excited to announce the release of our newest feature - the Cohort Analyzer. The Cohort Analyzer allows anyone to create machine learning models on gut microbiome data. No coding or data science skills needed! I believe this is the world's first no code platform for building microbiome machine learning models!
Currently, as of 2 Nov 2021, this feature is available on request only and we have made it available to a small subset of users so we can get early feedback before making it available to a wider user base. If you would like early access please reach out to us at support@biomesight.com but please note that this feature is in alpha testing stage. I should also point out that this will be our first premium paid feature when it is released more widely.
So what is the purpose of these machine learning models? The models help us to understand the key differences between our cohort of interest and the controls. Controls are everyone in the dataset that does not meet the specific cohort criteria. Once we understand these key differences, we can use it for the following:
Identify potential therapeutic targets - e.g. which bacteria, archaea, nutrients, metabolites, end products or enzymes or other calculation (e.g. diversity index) are most important in terms of how it deviates between the cohort and controls? We found that Hydrogen Sulfide Toxin producers are one of the main differentiators for those experiencing brain fog. I elaborate more on the findings in the video below.
Understand the impact of interventions (e.g. prebiotics), medications, lifestyle & dietary factors - if we specify our cohort based on these factors, we can see what the key differences are. When comparing users of the prebiotic GOS (e.g. Bimuno) we found that GOS users had higher Bifidobacteria (this aligns with the expected impact of GOS).
Planned feature - Before & After cohort analysis. We can use the same technique to identify cohort shifts with specific interventions to see how effective the chosen interventions were.
Planned feature - Predict the impact of specific interventions based on your current microbiome sample. This will form the basis of further personalized recommendations. Currently our recommendations are based on Dr Hawrelak's recommended ranges combined with interventions documented from the literature (e.g. Pubmed studies).
Planned feature - symptom and condition likelihood predictions
We are using the cohort analyzer internally in Biomesight to conduct our in-house studies and it will also form the basis of the new planned features mentioned above. The cohort analyzer is also aimed at commercial and academic researchers, therapeutics providers (e.g. probiotics and prebiotics or other supplement manufacturers). Over time we will add more and more features as our customer set expands and we work to meet your needs.
Please watch our feature walkthrough video to get an idea of how the cohort analyzer works.