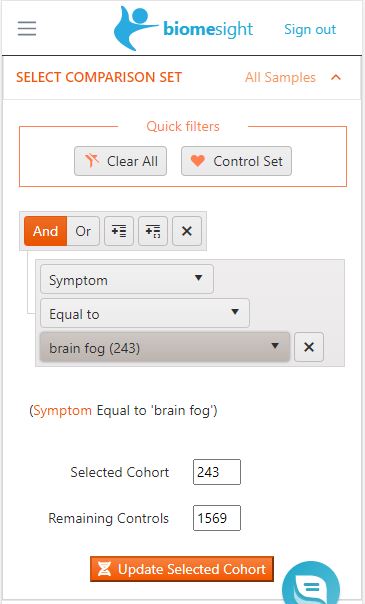 Feature Update - Screen cohort filters
I'm very excited to update you on our newest feature - Screen cohort filters! Screen filters enable you to use our simple user interface to select criteria for the samples you would like to compare your results against. You can view averages, medians and distributions for the selection and also for the remaining controls and see how they compare.
We empower our users to do their own research using our sample set and platform! View our Biomesight community data and see how your results compare to those with specific conditions, symptoms, as well as those taking specific medications, supplements and prebiotics.
Wondering if you should add a new prebiotic or supplement to your supplement stack? See how our members that are currently taking these are faring. Is it helping to increase their butyrate producers or their probiotic bacteria?
By specifying one or more conditions or symptoms you can also do research to see how these relate to the microbiome makeup of those within these cohorts. Use our advanced section to answer questions such as, what are the most prominent species or genus in those with the conditions and symptoms that is of interest to you.
Screen filters are available on all screens that compare your sample to our overall result set, including all the overview subsections, all the end products screens as well as the permeability and advanced results - detailed view sections.
I have recorded a short walkthrough video that explains how to access and use the new filter control.
If this feature proves popular, we will extend the screen filters to cover more of the data contained in our health profiles, e.g. age, gender, BMI, etc. Please do complete your own health profile so as to ensure the inclusion of your sample in our selections. If you have any conditions, symptoms, etc. that is not listed, please don't hesitate to reach out to our support team to have it added.